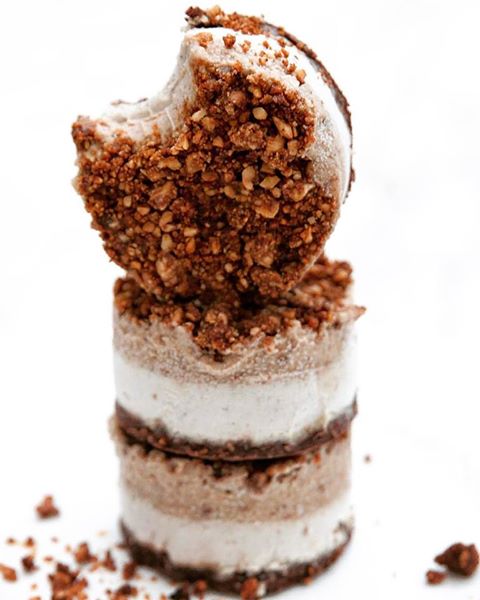 A retro flashback that is sure to please even the most devout of gaytime ice-cream enthusiasts. However, our version is supercharged with health benefits that will leave you not only satisfied but energised!
Chocolate Base
1/2 cup activated hazelnuts
1/2 cup activated walnuts
1 cup shredded coconut
2 tablespoons coconut oil
3 tablespoon raw cacao powder 1 tablespoon maple syrup Pinch sea salt
Line either a 10 inch spring form cake tin with baking paper or 6 individual mini cake moulds.
Place all the ingredients in a food processor or thermomix and blend until combined, forming the consistency of a biscuit dough that holds together when pressed between two fingers.
Spread the mix evenly into your prepared moulds.
Place your moulds in the freezer to set.
Vanilla Caramel Filling
2 cups raw cashews (soaked for a minimum 6 hours or overnight, then drained and rinsed)
1 cup Nut Mylk (almond or hazel)
1/3 cup maple syrup or coconut nectar
1/3 cup hulled tahini
1/3 cup coconut oil or coconut butter
10 pitted medjool dates (soaked in boiling water for 10 minutes to soften) 1 teaspoon vanilla bean powder
Pinch of sea salt
Place the cashews in your food processor or high speed blender (vitamix) along with the Nut Mylk, coconut oil, tahini, vanilla and sea salt.
Blend until completely smooth, then divide the mixture in half.
Leave half of your mixture in the blender to make your caramel filling and spread the other half of your mixture over your cake bases to create your vanilla layer and then put them back in the freezer.
Drain your medjool dates and add them to the filling you set aside in the blender.
Blend your filling mixture until smooth and pour the caramel filling over the vanilla filling and then put your moulds back in the freezer to set for around 2 hours.
Once your cakes are set remove them from the freezer and rub the outside of the cake moulds with a hot cloth. Run a heated knife around the edges and gently push your cakes out of their moulds.
Place your cakes back into the freezer while you make your cookie crumble.
Be sure to take your cakes out of the freezer a good 10 minutes before serving to soften.
Cookie Crumble
1/2 cup activated cashews
1/2 cup activated hazelnuts
1/2 cup Pallet Wholefoods activated almond flour 1/2 cup coconut flour
1/4 cup coconut oil
1/4 cup maple syrup or cocont nectar
1 tablespoon Nut Mylk (Almond or Hazel)
1 teaspoon aluminium free baking powder
1 teaspoon vanilla bean powder
Preaheat your oven to 180 degrees celcius and line a baking tray with baking paper. If you would like to make the cake completely raw you can put the mix in the dehydrator overnight instead of in the oven for results just as delicious.
In a food processsor place the cashews and hazelnuts and blend until they form a fine crumb.
Combine the hazel and cahsew crumb with your almond and coconut flours in a large bowl and stir well to combine.
In a small saucepan melt the coconut oil, maple syrup or coconut nectar and vanilla bean powder.
Take the saucepan of the heat and add the baking powder and Nut Mylk, stir together until your mixture foams.
Pour your liquid mixture over your dry mixture and stir well until combined.
Spread your crumble over the prepared tray in a thin layer and place in the oven for 5-10 minutes until a lovely rich golden colour.
Allow your crumble to cool and then top your cakes just before serving! These keep fabulously in the freezer, if they ever make it back!
Original recipe adapted from the Merrymaker Sisters